Welcome
Thank you for visiting St. Nectarios Greek Orthodox Church Online. We hope that our website will keep you updated with upcoming events and provide a brief history of our patron saint. Please feel free to read more about our church on this site, or come in for a visit. We would love to greet you and share with you our love for Jesus Christ
Please click the link below to direct you into our
Via Facebook
Services:
Sunday Morning Liturgy
8:30 AM Orthros
9:30 AM Liturgy
       (Healing) Service to
       Saint Nectarios
There will be Wednesday
        7:00 PM Paraklesis
       Service to
       Saint Nectarios 
Church is open:
       Monday thru Friday
       10:00 AM – 4:00 PM
      Saturday: Open
      Sunday: Open from
       8:30 AM – 2:00 PM
Our services are in
       Greek & English
Office Hours:
Monday thru Friday
10:00 AM – 4:00 PM
Email Address:
To switch to manual slideshow, please click this link
On September 2, 1979, Relics were given to our parish by Metropolitan Hierotheos of Hydra, Spetsae and Aigina, with co-approval by the nuns of the Convent of the Holy Trinity (or as it is commonly called today – of St. Nectarios), which Saint Nectarios had established and where now his remains repose. Since that time our parish has become a shrine with which thousands have made contact for prayer and healing. The brief but beautiful ceremony took place in the Sanctuary of the tiny chapel in which all the Relics are now kept in two reliquaries for veneration. Bringing part of the relics to the United States was a cherished privilege – "One which I long remember with fond memories" said Father Spiro Pieratos. The Relic of this humble Saint rests in Saint Nectarios Greek Orthodox Church and Shrine in Covina, California.
Live Stream Announcement
For those who choose not go to church but would like to connect with us via online LIVE STREAM, the link you would use to join with the services via FACEBOOK is:
https://www.facebook.com/SaintNectariosCovina/
<![if !vml]>

<![endif]>
WeShare
<![if !vml]>

<![endif]>Secure SSL/TLS Connection
St

. Nectarios Church is a parish of Metropolis of San Francisco of the Greek Orthodox Archdiocese of America
<![if !vml]>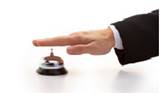 <![endif]>
 Special Announcement:
Reopening of Saint Nectarios Greek Orthodox Church & Shrine
DUE TO THE STATE OF CALIFORNIA AND LOS ANGELES COUNTY MANDATE, SUNDAY SERVICES ARE ONLY OFFERED OUTDOORS TO A LIMITED CAPACITY.
ATTENDANCE REQUIREMENTS:

Those with any signs or symptoms of any acute illness (whether it is COVID-19 or not) MUST stay home, as shall those who have come into contact with COVID-19. It is strongly recommended that parishioners who are 65 or older, especially those living in long-term care facilities and who suffer from serious medical conditions such as cardiac and/or pulmonary disease, diabetes, a compromised immune system, or other underlying health issues are advised to participate in live-streamed services home at this time. Parishioner assumes all responsibly in risks and Covid-19 related health risk should they occur for attending in person services. Questions should be directed to your healthcare provider.
<![if !vml]>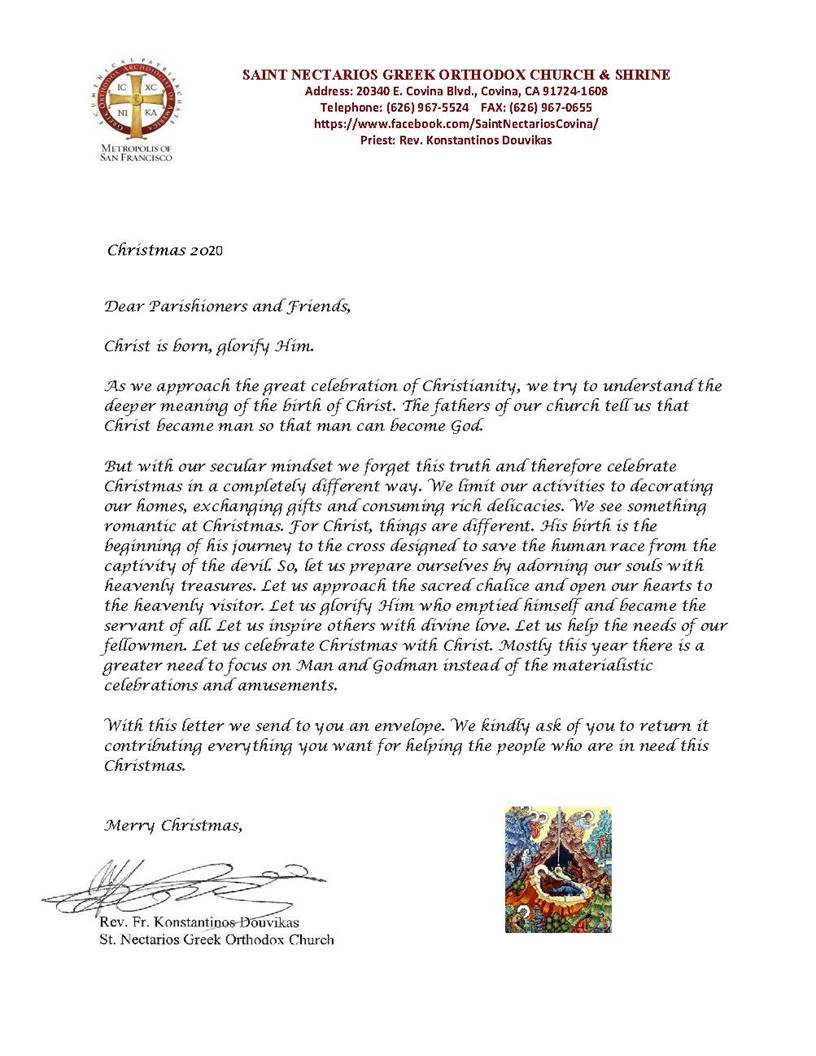 <![endif]><![if !vml]>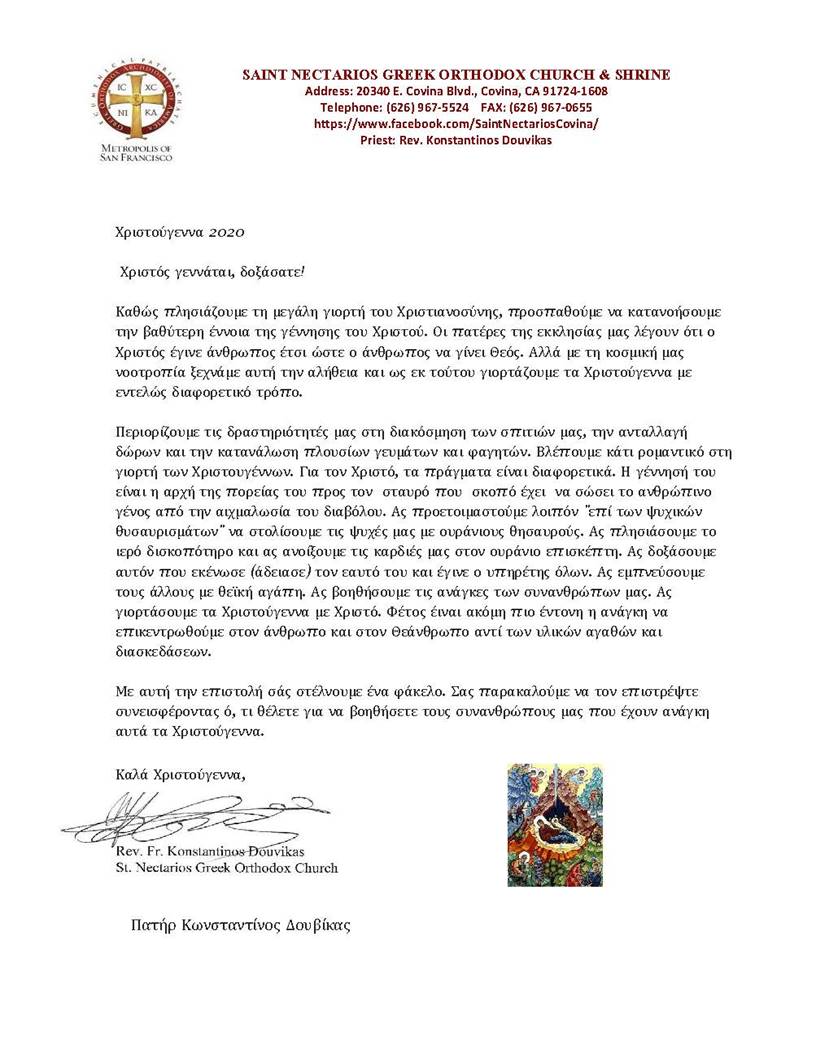 <![endif]>

<![if !supportMisalignedColumns]>