The Relic and Shrine of Saint Nectarios
<![if !vml]>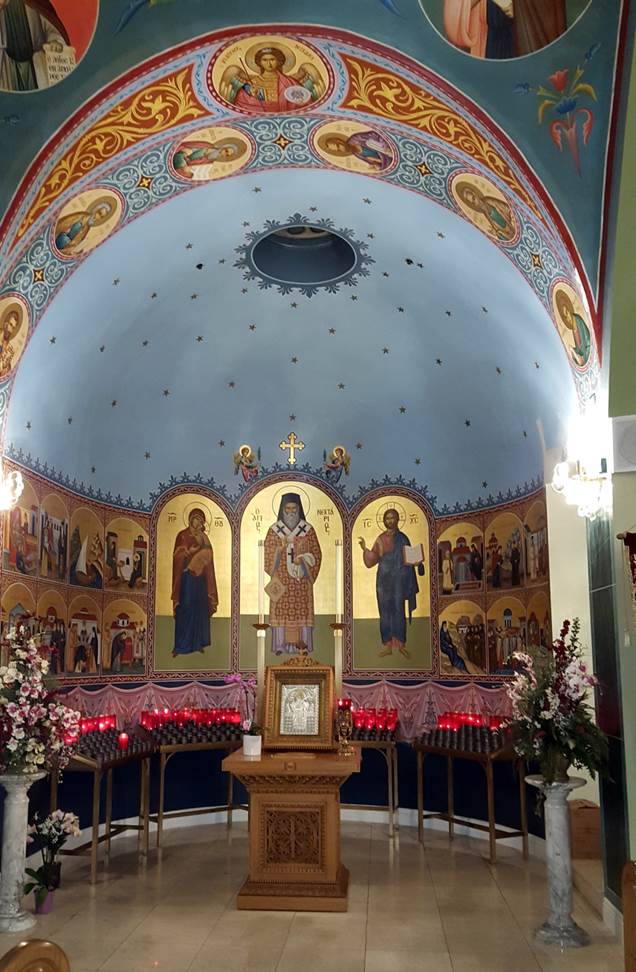 <![endif]>
The Shrine
On September 2, 1979, Relics were given to our parish by Metropolitan Hierotheos of Hydra, Spetsae and Aigina, with co-approval by the nuns of the Convent of the Holy Trinity (or as it is commonly called today – of St. Nectarios), which Saint Nectarios had established and where now his remains repose. Since that time our parish has become a shrine with which thousands have made contact for prayer and healing. The brief but beautiful ceremony took place in the Sanctuary of the tiny chapel in which all the Relics are now kept in two reliquaries for veneration. Bringing part of the relics to the United States was a cherished privilege – "One which I long remember with fond memories" said Father Spiro Pieratos. The Relic of this humble Saint now rests in Covina, California, in a temporary Church built in 1980.
<![if !vml]>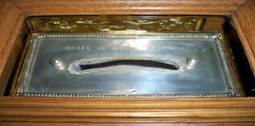 <![endif]>
The Relic of Saint Nectarios
The size of the Relic is rather large, the length of a man's finger, from fingertip to the knuckle, it is actually one of the Saint's ribs, a rib that "felt" the Saint's heartbeat for over 74 years, a heart that throbbed exclusively with and for the love of Christ. Those who had known the Saint (there are two recent books of living eye-witness testimonies edited by Manolis Melinos, have lasting recollections of a loving, spiritual Father. Several books and countless pamphlets and folders on testimonies of his miraculous cures upon thousands of grateful beneficiaries have been published. What more do we need in order to believe in the power of God and in the manifestation of that power in the world and in the lives of countless faithful Orthodox and some non-Orthodox? In Saint Nectarios we have wisdom, guidance and counsel, because he lived in our century and is a living testimony of what true Christianity is and what it should be. His faith should awaken our faith, His love should kindle our love, His hope should assure our hope. Holy men and women will always abound. They strive to bring forth an acute awareness of Christ and His available presence and intervention for those who believe and who call upon His name. Everyone has access to holiness and to participation in miracles through prayer, devotion and faith. The Relic is part of a holy man who lived a holy life. Many miracles were and are done by touch9ing even clothing that has come into contact with the Saint's body. In the Book of Acts, St. Peter's shadow was known to heal. May we all be changed and healed by our spiritual embrace with St. Nectarios. Doctors heal, but Saints heal miraculously by the power of God. With trust in the former and faith in the latter, we can live long and productive lives.
Since 1979, our parish has become a Shrine with which thousands have made contact for prayer and healing. The St. Nectarios Brotherhood has been growing – its purpose is to help make known the existence of the Shrine and its work. In June of 1984, Archbishop Iakovos visited the Shrine and suggested that a Byzantine church should be built as soon as possible, in order to more properly enshrine the Relics. With the help of thousands who have love and respect for the Wonder-Worker, this dream has become a reality - a refuge where the sick, who cannot go to Aegina, can come or write in order to receive blessings and prayer for their illnesses. The spirit of St. Nectarios is far reaching. We know that thousands have been touched by him in many ways. St. Nectarios' presence is with us through his holy Relic and we hope, with your help, to create a lasting, living center dedicated to that ongoing intercessionary spirit of the Wonder-Worker Saint Nectarios There are a lot of hurting people these days. Financial pressures, marital problems, illness. As part of a community of people who believe in God, it's common for someone to ask that you pray for them or their situation. Won't you join us every Wednesday evening at 7:00 PM for the Paraklesis Service