Source: https://www.goarch.org/chapel/saints?contentid=321&PCode=11LF&D=F&DT=12/04/2020
DECEMBER 6th, 2020 – TENTH SUNDAY OF LUKE
<![if !vml]>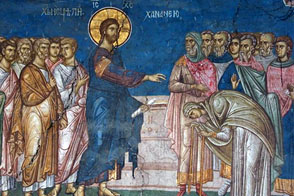 <![endif]>
 SUNDAY, December 6th, 2020 –Tenth Sunday of Luke
<![if !supportLists]>· <![endif]>8:30 am -Matins/Orthros
Click this link to Orthros/Matins Gospel Reading
9:30 am - Divine Liturgy.
Click this link to Epistle Reading
Click this link to Holy Gospel Reading
<![if !supportLists]>· <![endif]>There will be NO 12:00 pm Paraklesis to Saint Nectarios.
<![if !supportLists]>· <![endif]>Election for Parish Council Members will be held on this day after Divine Liturgy. The voting will take place under the tent and patio.
Reading
LUKE 13:10-17 – A WOMAN HEALED ON THE SABBATH
The Gospel:
10Now He was teaching in one of the synagogues on the Sabbath. 11And behold, there was a woman who had a spirit of infirmity eighteen years, and was bent over and could in no way raise herself up. 12But when Jesus saw her, He called her to Him and said to her, "Woman, you are loosed from your infirmity." 13And He laid His hands on her, and immediately she was made straight, and glorified God.
14But the ruler of the synagogue answered with indignation, because Jesus had healed on the Sabbath; and he said to the crowd, "There are six days on which men ought to work; therefore, come and be healed on them, and not on the Sabbath day."
15The Lord then answered him and said, "Hypocrite! Does not each one of you on the Sabbath loose his ox or donkey from the stall, and lead it away to water it? 16So ought not this woman, being a daughter of Abraham, whom Satan has bound—think of it—for eighteen years, be loosed from this bond on the Sabbath?"† 17And when He said these things, all His adversaries were put to shame; and all the multitude rejoiced for all the glorious things that were done by Him.
Source: Bible, Crimson Publishing. The Orthodox study bible (updated Old and new testament) (Kindle Locations 73106-73114). Thomas Nelson. Kindle Edition.
Life Application Narrative:
LK 13: 10-17 Why was healing considered work? The religious leaders saw healing as part of a doctor's profession, and practicing one's profession on the Sabbath was prohibited. The synagogue leader could not see beyond the law to Jesus' compassion in healing this handicapped woman. Jesus shamed him and the other leaders by pointing out their hypocrisy. They would untie their animals and care for them, but they refused to rejoice when a human being was freed from Satan's bondage.
LK 13: 16 In our fallen world, disease and disability are common. Their causes are many and often multiple— inadequate nutrition, contact with a source of infection, lowered defenses, and even direct attack by Satan. Whatever the immediate cause of our illness, we can trace its original source to Satan, the author of all the evil in our world. The Good News is that Jesus is more powerful than the devil or any disease. He often brings physical healing in this life; and when he returns, he will put an end to all disease and disability.
Source: Tyndale. NIV Life Application Study Bible, Second Edition (pp. 7456-7457). Tyndale House Publishers, Inc. Kindle Edition.
Resurrectional Apolytikion
Mode pl. 1. Automelon.
The stone had been secured with a seal by the Judeans, * and a guard of soldiers
was watching Your immaculate body. * You rose on the third day, O Lord * and Savior, granting life unto the world. * For this reason, were the powers of heaven crying out to You, O Life-giver: * Glory to Your resurrection, O Christ; * glory to Your kingdom; * glory to Your dispensation, only One who loves mankind.
Ἀπολυτίκιον Ἀναστάσιμον.
Ἦχος πλ. αʹ. Αὐτόμελον.
Τοῦ λίθου σφραγισθέντος ὑπὸ τῶν Ἰουδαίων, καὶ στρατιωτῶν φυλασσόντων
τὸ ἄχραντόν σου Σῶμα, ἀνέστης τριήμερος Σωτήρ, δωρούμενος τῷ κόσμῳ τὴν ζωήν· διὰ τοῦτο αἱ Δυνάμεις τῶν οὐρανῶν ἐβόων σοι ζωοδότα. Δόξα τῇ Ἀναστάσει σου Χριστέ, δόξα τῇ βασιλείᾳ σου, δόξα τῇ οἰκονομίᾳ σου, μόνε φιλάνθρωπε.
Resurrectional Kontakion
You arose from the sepulcher in glory as God, and with yourself resurrected the world. And mortal nature extolled You as God, and death was obliterated, and Adam is dancing, O Master; and Eve, now redeemed from the bonds, rejoices crying out: O Christ, You are He who grants resurrection to all.
Κοντάκιον Ἀναστάσιμον.
Ἐξανέστης ὡς Θεός, ἐκ τοῦ τάφου ἐν δόξῃ, καὶ κόσμον συνανέστησας, καὶ ἡ
φύσις τῶν βροτῶν ὡς Θεόν σε ἀνύμνησε, καὶ θάνατος ἠφάνισται, καὶ ὁ Ἀδὰμ χορεύει, Δέσποτα, καὶ ἡ Εὔα νῦν ἐκ τῶν δεσμῶν λυτρουμένη, χαίρει κράζουσα· Σὺ εἶ ὁ πᾶσι παρέχων, Χριστὲ τὴν ἀνάστασιν.
Source: https://www.agesinitiatives.com/dcs/public/dcs/p/s/2020/12/06/ma/gr-en/index.html